Taki Katatashi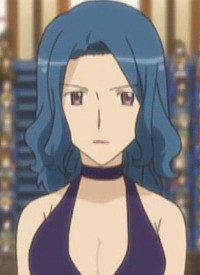 [Attributes]
Power
*****
Agility
****
Toughness
****
Intelligence
*****
Willpower
****
[Basic Information]
Full Name:
Taki Katatashi
Alias(es):
Taki
Gender:
Female
Age:
25
Sexuality:
Straight
[Characteristics]
Height:
6'2
Weight:
50kg
Hair:
Dark blue
Eyes:
Pink
General Appearance:Personality:
Taki is pretty hasty when it comes to anything. She wants to rush it out and has no time to stop for anyone. She also seems to have a mind of her own that says I don't need to listen to anyone. But despite being this way, she is sensible enough to listen to Daedalus if none other. She's also gentle and helpful. Despite her attitude she has always been more of a caretaker than a fighter.
Likes:
Lamia Scale
Daedalus
Work
Dislikes:
Dark guilds
Heights
Snow
Motivations:
To bring LS to the top
To destroy dark guilds
Fears:
Another war
LS getting destroyed
History:

Taki was born in an upper class family as the daughter of two rich parents. She grew up seeing them run around all the time working and not paying her any attention. It was her 11th birthday when she found out about her magic power and though it confused her at first, it fascinated her later. She developed the skills and when her parents found out, she ran away fromhome and was found by Daedalus who took her into Lamia Scale and taught her how to control her magic.

Event 3: After the attack on Lamia Scale, Taki left her position as Ace, claiming she had to help the guild in another way. She knew that the guild needed its Ace to be around, however, and stated that a young man named Kade Lazarus would be the perfect candidate. Daedalus, as always, listened to her.
[Guild & Magic]
Guild:
Lamia Scale
Guild Tattoo:
On her right palm, Aqua
Magic:
Sand Magic
Caster or Holder:
Caster
Description:
Sand magic is basically sand manipulation and using it to make solid objects that can be used in battle.
Strengths:
It is very versatile, allowing her to use the sand like a wall, a whip, or anything else she needs.
Weaknesses:
Without sand nearby, her magic is useless. She usually carries a jar of sand with her as a result.
Face Claim:
Isabella Antonetti, Yumeiro Patissier
Admin




Posts

: 441


Experience

: 81


Primary Magic

: Admin Magic


Secondary Magic

: N/A

---



---
Permissions in this forum:
You
cannot
reply to topics in this forum