Jayzaku Vista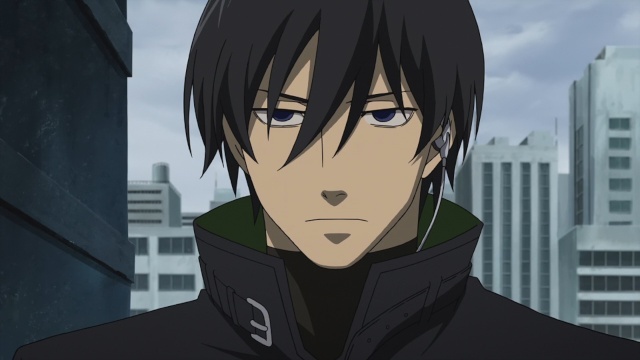 [Attributes]
Power
- ***
Agility
- ***
Toughness
- ***
Intelligence
- ****
Willpower
- ***
[Basic Information]
Full Name:
Jayzaku Vista
Alias(es):
Black Reaper or Memory Reaper
Gender:
Male
Age:
19
Birthday:
July 19th
Sexuality:
Straight
[Characteristics]
Height:
5'10
Weight:
140 lbs
Hair:
Black
Eyes:
Brown(When using magic glows red)
General Appearance:
Jayzaku is a average weight adult male with a slim and lean build. He has a medium amount of muscle mass. He has a light skin tone and looks much younger than he is. Jayzaku has short black hair which can be seen always going straight down. He has navy blue eyes which can turn red when he uses magic. Jayzaku has 2 tattoos he has the kanjis for power and love on his back. On a normal day he can be seen wearing a skin tight stealth suit which is covered by a black trench coat which is a dark shade of green on the inside, he also wears black khaki pants and black boots. When out on missions he dons a white mask with a purple lightning bolt going through the right eye. When at home relaxing he wears a white button up shirt, some blue jeans, and black slip on shoes. When he is training he wears a black tank top and blue knee length shorts.
Personality:
Jayzaku is shown to be highly perceptive, observant, discerning, analytical, intelligent, very quick-witted, controlled, disciplined and clear-headed, quick-thinking, showing a great maturity, responsibility and intuitiveness; rarely being caught off guard or deceived. He rarely shows any sign of alarm or distress, and often has entire situations planned out well in advance. Jayzaku is very perceptive, fully aware of the limits of his abilities, and anything he states in comparison to an opponent is usually justified. A person with incredibly strong resolve, Jayzaku will do anything and everything in his power to accomplish something that's important to him, without any hesitation. Jayzaku has a macabre sense of humor. Jayzaku is a proficient in manipulation, either by subtly corrupting his target's own goals, omitting parts of stories or events to his own benefit, or by appearing to share their beliefs. Jayzaku is a strong believer than the ends make up for the means and is willing to do things of a dark nature in order to achieve something good or vice versa. Jayzaku also believes that you should be able to settle things through words but will fighting needed or he just wants to. Jayzaku is a dedicated scholar believing that knowledge is power. In battle Jayzaku is fearless and is willing to kill anyone, but would prefer not to. He is usually quiet when fighting.
Likes:


Learning about magic- As a scholar Jayzaku enjoys learning about different types of magic

Reading- Jayzaku believes books hold knowledge and knowledge is power

Playing strategy games- With such a high intelligence level he enjoys to make strategies for battle and playing these games helps him improve that skill

Listening to music- Jayzaku is a firm believer that music is expression and he believes that everybody should be able to express themselves
Dislikes:

Overly sweet food- Jayzaku is very into fitness and such things so he believes that he should eat a healthy diet

Limitations of his body- He wishes to take away the limits of his body

Being deceived- He believes loyalty and honesty is the best quality a person can have

Mistreating your comrades- He believes that your comrades are your greatest asset in any person's life, so mistreating them is out of the question

Inferiority- He strives to be the strongest mage and hates to be inferior to people but will gladly praise people's abilities

Motivations:
Jayzaku wants to make his whole family proud and one day become one of the 10 wizard saints
Fears:
Jayzaku has a fear of spiders and he also fears losing sight of the future and dwelling on the past.
[Life]
Occupation:
Dark guild mage and bounty hunter
Family:
2 unknown parents and 7 unknown brothers and sisters
Medical Conditions:
N/A
Pets:
N/A
Hometown:
Magnolia
Secrets:
He doesnt know his family
History:

It was a dark and stormy night as a young 30 something year old woman gave birth in a small village outside of the town of Hargeon. The woman and her husband were very poor at the time and had barely anything more than a house, some clothes, and a few jewels. The couple went by Maria and Jacob Vista, and their newborn son was Jayzaku. In the following weeks the couple realized that Jayzaku would be better off else where so they gave him to a orphanage where he spent his first 10 years of life. On Jayzaku's 10th birthday the orphanage could no longer afford to take care of the older kids so they sent them all out into the world where they would have to fend for themselves. Once out in the world most of the kids became criminals but not Jayzaku, who by that age had taken to being called Jay. Jay had started begging people for money and one day it paid off big time. A man who walked past gave Jay an opportunity of a lifetime he offered to teach him magic. Jay graciously accepted and went off to go live with this man. The man's name was Mr. Yamato he was a older gentleman with white hair. The magic that was taught to Jay was called Memory Make the magic took about 7 years on average to master the basic powers but Mr. Yamato put Jay to the test by only giving him 5 years. The training Jay was put through was long and intense, so intense that ost adults wouldnt be able to withstand it. However not once did Jay ever give up he stayed strong till the end and before his 5 year deadline was up he had completely mastered the magic. Jay had grown a rather strong connection to Mr. Yamato as he was not only his teacher but his father. The two of them shared very powerful and strong memories, but that all soon was about to end. One day while outside Jay was kidnapped and taken away from home. After a month of being held hostage by his kidnappers he was sold into slavery and shipped out of Fiore. A 15 year old Jay was sold into a organization called "The League of Assassins"> They trained him to be a top notch killer and when it was all over he was a 19 year old grown man, more like a a non emotion having killing machine. After Jay had been realesed from the league at the age of 19 he went back to Fiore to track down his parents that he never knew. He found out through some of his old contacts from the league that his parents were now the head of a multi million dollar magic reasearch company called "Vista R&D". From that point on Jayzaku made a vow to first make his family proud and then kill his mother and father for what they did to him.
[Guild & Magic]
Guild:
Shadow Heart
Guild Tattoo:
Back of the left hand
Magic:
Memory Make
Caster or Holder:
Caster
Description:
A Magic which grants the caster the ability to manipulate memories, though not the ones of other people. It also gives the user amazing memory capacity, being able to memorize opponent's heart beats, footsteps and Magic which will allow them to use spells they have seen and memorized. The caster can also create "memories" of themselves which are similar to holograms. This Magic also allows the user to create new Magic spells by combining spells from other Magic which the user has memorized before. Furthermore, the user is able to negate Magic spells used by the opponent which the user also had already memorized by "forgetting" the spell. Unlike Ice-Make or Wood-Make, the caster does not need to place their hands into complex positions but merely places their fingers on the temples of their heads as a focus point and a chain of memories could be seen visible behind the user.
Strengths:
Memory Make magic not only gives the user amazing memory capacity to the point where they will forget almost nothing but it also allows the user to memorize things such as different magics. Once these magics are memorized they may be used by the user of memory make. It should be noted that when memorizing spells it can be done in two stages. In the first stage of memorizing the user cant use the spell but simply remembers everything about it. In the second stage the user may utilize the spells, but each memorized spell takes up a spell slot. They can be used spell for spell individually or they can be combined with other memorized spells to make a whole new spell, this also takes up one spell slot in addition to the two or more slots already taken by the original spells. The user can negate the opponents spells by making them forget the spell for a limited time.
Weaknesses:
Memory Make has a few weakness like all magics. The biggest weakness is that if the user is to ever lose their memory due to something like amnesia the magic becomes useless until they begin to regain some memories. Another weakness is that when memorizing spells to the second stage they take up spell slots. Although this magic can copy and memorizes other people's spells it is unable to copy spells too powerful for the wielder of this magic to use. Also when making illusions of where the user once was someone may see through it with the use of perception magic, and if the conditions are optimal the use of dragon slayers enhanced senses.
RP Sample:

Within a dark office, seated a young man. His eyes were of a obsidian black, and his hair was as dark as the night sky. The young man wore a black suit and leaning on his desk with both arms covering the bottom-half of his face. He was staring at an ancient book that may have been thousands of years old. He wasn't quite sure if what the book said is true or not. But he was certain that power can be gain from the small information that this book had given. It had spoken of a magic that was deemed so powerful, that it has the potential to warp reality itself.

And he plans on gaining that power to ensure that the Vista Family has the power to rule the world! But he knew that this is far from easy. This specific Lost Magic was apparently made up of twelve other form of Lost Magic that had been broken up due to their immense power. He easily understand why the Lost Magic were broken up, but he has little information on what they could have been. The only thing he knew were the Aspects that each Lost Magic represent. Fabric, Progression, Optimism, Pessimism, Direction, Unity, Choice, Soul, Resignation, Belief, Mystery, and Information. Those twelve Aspects were the key to unimaginable power. And he has to have it before his brother.

Out of everyone in the world, he is quite certain that he, himself, is the only person that is aware of this power with the actual resources to find it. But he is also competing with his older brother, Takashi, in getting their family to rule the world. He knew that this may be the only way of surpassing his brother before he gains all of their love and attention. If Takashi succeeds, than Jayzaku will be nothing more than the brother of the man who has his family rule the world. He'll get no recognition or achievement if that were to happen. He must surpass his brother, no matter what! This so called 'competition' will affect Jayzaku's future if he continue this. Will he be the brother? Or the ruler? The only way to find out is to see who will succeed first. "It's time to play our game, brother.", Jayzaku said to no one particular as he stood up. And walked out of his office with his ancient book in hand. Let the game begin...
Username:
Jayzaku Vista
Face Claim:
Hei, Darker than Black
Desired starting level:
3
Last edited by Jayzaku Vista on Mon May 05, 2014 1:12 am; edited 3 times in total
Alright, I'll look at this now that I'm back from my trip. Sorry to make you wait. Now, things look pretty good except for the magic. While we allow just about anything if handled correctly, I'm not sure I like how the magic sounds in the description.

How long are the spells he learns learned for? What do you mean you can make people forget their spells? This just seems a bit overpowered, though before I say no outright, I'll discuss it with you and see if something can be worked out. Just in case though, a secondary magic idea might be a good thing to come up with.
_________________
Admin




Posts

: 441


Experience

: 81


Primary Magic

: Admin Magic


Secondary Magic

: N/A

---



Sorry for the delay but tell me what exactly needs more explains
I'll be taking over this app. So we'll get right down to business.

The magic: In it's current state, no. So let's break it down nice and simple. It is a mix of illusion and copy magic. So I'm going to be nitpicking based on that.

Copying Magic: As a general rule of thumb for how this works is you can only copy spells equal to the level of the spell you use for the copying. Therefor, you're unable to copy magic stronger than your ability to control. (You can have this happen for private RPs for plot purposes, but I'm going to be grading based on official standards)

Illusions: They can be seen through if the person has a perception spell that's stronger than your illusion. This would hold true to your "Memory" forms too. A strong sense of perception through magic (Or DS' natural senses possibly) would allow them to figure out that they're either fake, or figure out which one's the real you.

You may NOT start with extra spell slots. What you get is the same as everyone else. So take that out of your magic.

Your weaknesses is 55/75 words. Add extra weaknesses.

Edit, bump, and I'll let you know if you nailed it.
Admin




Posts

: 113


Experience

: 122


Secondary Magic

: N/A

---



Alright Approved for level 3.
Admin




Posts

: 113


Experience

: 122


Secondary Magic

: N/A

---



Similar topics
---
Permissions in this forum:
You
cannot
reply to topics in this forum